Mobile Medical Clinics are Fighting Drug Addiction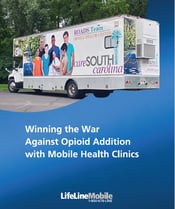 Learn How MHCs can Help You Fight this Epidemic!

Opioids accounted for around 75 percent of all overdose deaths during the early months of the pandemic and around 80 percent of those included synthetic opioids such as fentanyl. In addition, the lack of being able to obtain access to addiction support and medications that require face-to-face visits has only exasperated the problem.
Download the White Paper about HRSA Grants and how to fight this epidemic that continues to sweep our nation.
Winning the War Against Opioid Addiction with Mobile Health Clinics