The model of mobile medical is to provide cost-effective, high quality care, many times to disenfranchised populations in underserved areas.
1. Mobile Health Clinics are an Emerging Business Model for Hospitals
The emergence of Population Health Management illustrates the need in today's healthcare industry to study and facilitate the delivery of care across the general population or a group of individuals. As payments by insurers evolves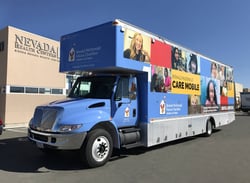 from a focus on volume to paying for quality of service and outcomes, hospitals can benefit from mobile clinics. Healthcare organizations are increasingly required to explore new ways to effectively manage the health of populations they serve. In doing so, these organizations are modifying the way services are delivered and breaking down the barriers that prevent patients from accessing care by using mobile healthcare vehicles. This allows them to reassess coordination of care for medical, behavioral and social services, while combining preventive care with primary and acute care through referral programs to the home medical facility.
The community-centered model of mobile health clinics removes barriers to healthcare access, decreases disparities, improves the delivery of care and ultimately decreases costs to the institution. All of this is accomplished while increasing patient volume, billable services and ultimately boosting revenue, which helps the organization to preserve and grow market share.
2. Accountable Care Organizations & Mobile Health Clinics
At the end of the first quarter of 2018 there were a total of 1,011 active Accountable Care Organizations (ACO) in the United States. An ACO is a healthcare management agency that is clinically and financially responsible for specific populations of patients. Because of the responsibility they carry there is a significant motivation to improve healthcare quality and save costs. Mobile healthcare vehicles have exhibited significant cost savings with high quality delivery of care to the populations that ACOs are intended to serve. The mobile health clinic delivery model allows ACOs the flexibly to identify and adapt to the changing needs of their communities without the expense of one or more permanent healthcare facilities to cover their geographies. The ACOs' objective of improving health outcomes and providing cost-effective care is more easily achieved with mobile healthcare units which are able to deliver services by driving into key locations within the community.
3. Nonprofit Hospitals & Mobile Health Clinics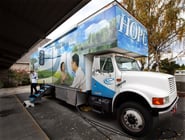 According to the American Hospital Association, of the more than 5,700 hospitals in the United States nearly 3,000 are nonprofit. Nonprofit hospitals are required to provide the sufficient needs assessments and appropriate strategies for the healthcare demands of communities they serve. By incorporating mobile health clinics into their business they are better suited to fully understand the medical and social needs of the population, allowing them to identify and provide the specific services required for their constituents where they live, work, go to church and go to school. For nonprofit hospitals the mobile medical model has shown proven success in reaching and providing care for vulnerable populations in at risk communities.
Conclusion: Mobile Health Clinics Bring Residual Income
Research shows that mobile health clinics can provide a significant return on investment (ROI). A MHC can readily discover a patient's health problem and more than 80 percent of the time that patient will seek further treatment within the provider organization. For many services like diabetes, work site screening or mammography imaging, the initial discovery of a patient's problem can produce literally millions of dollars in income that is directly attributable to the initial mobile unit-based discovery.
Referrals to the home facility builds patient loyalty and establishes a medical or dental home so patients have the continuity-of-care they need. This is particularly the case when a patient requires medical treatment that is beyond the scope of the mobile unit's capability. In these cases, which can be frequent, the mobile staff member will refer the patient to the home hospital or healthcare facility. Driving patient referrals can be the largest cost benefit to utilizing mobile medical as part of a health organizations total service offering. The economic benefits to the organization are significant in driving business. The mobile unit can bring more patients and more income to a healthcare organization than many other marketing initiatives would. When organizations incorporate mobile clinics into their overall marketing plan there is a proven, trackable and tangible ROI (return on investment) that other marketing initiatives cannot demonstrate.
Hospitals and other healthcare providers use mobile clinics to increase access to their services. By incorporating mobile medical clinics into their service portfolio providers have a valuable source of referrals to doctors and services within their medical centers. The difference is that a mobile unit goes directly to the patient, where a brick and mortar facility is waiting for the patent to come to them. By referring patents from the mobile clinics to doctors within their system the patient receives continuity of care in the same way the health system's emergency room, external clinics or individual practitioner's office provide. Immediate referrals can be made while the patient is in the mobile unit and electronic health records (EHR) are transferred directly to the home facility. This further ensures important continuity of care for the patient and helps secure additional revenue for the organization.
For more information click the button below to study our white paper.
Additional Sources