According to the FDA the COVID-19 pandemic is causing unprecedented challenges to the U.S. blood supply. Donor centers and bloodmobiles are experiencing a dramatic reduction in donations due to the implementation of social distancing and the cancellation of blood drives.
Maintaining an adequate blood supply is vital to our public health, especially during a pandemic. Blood donors help patients from all walks of life, including accident and burn victims, heart surgery and organ transplant patients and those battling cancer and other life-threatening conditions, as well as those suffering from the novel coronavirus. The American Red Cross estimates that someone in the U.S. needs blood every two seconds, that's 30 people every minute, 1,800 people per hour, 43,200 people per day and more than 15 million people per year − a staggering statistic.
Blood collection services are facing a desperate need for blood and platelet donations. With the ongoing pandemic, they need the help of blood and platelet donors and blood drive hosts to meet the needs of patient care. Most donation centers have put protocols into place to ensure the safety of donors. In addition, bloodmobiles have the capability of clean, filtered air inside the vehicle and methods for ensuring social distancing precautions. As the only resources for filling depleted inventories, the FDA, Red Cross, CDC, U.S. Surgeon General and the Federal Emergency Management Agency (FEMA) are all encouraging blood drive hosts to reopen and get back on the road while promoting a safe environment to put donors at ease about giving blood and platelets. As hospitals have resumed surgical procedures and patient treatments donors are desperately needed to give now to ensure blood products are readily available.
1) Convalescent Plasma as a Weapon in the Recovery of COVID-19 Patients
The blood from people who recover from COVID-19 contains antibodies which are capable of fighting the virus that causes the illness. The antibodies in blood donated from those who have recovered from the virus have

"convalescent plasma," which is the antibody to the disease. When administered to patients currently battling COVID-19 it helps boost their ability to fight their illness and can lead to a more rapid improvement for those suffering from the disease.
For this reason, the FDA is encouraging blood centers and bloodmobiles to partner with hospitals and the community to collect and distribute plasma from people who have recovered from COVID-19. If a person has tested positive for COVID-19 and recovered, their plasma may be able to save lives by helping patients currently fighting the virus.
Organizations like Vitalant, one of the nation's oldest and largest transfusion medicine organizations, continues to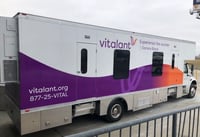 expand the number of locations where they collect convalescent plasma and the Vitalant Research Institute is working to advance knowledge of the disease.
2) Shout the Fact That Blood Drives Are Safe and Easy
Several clinics and mobile blood drives have been cancelled due to the fear that many people have because of the need to social distance. However, since blood donations are needed now more than ever it's critical that organizations get back to hosting blood drives and healthy donors continue to give blood in order to maintain a strong blood supply. This is crucial not only for helping those suffering from the novel coronavirus, but for all those stricken with other illnesses or facing urgent surgeries.
Donating blood can still be safe. To keep staff and donors safe, and to minimize the time it takes to donate blood, many donation centers are scheduling appointments. Plus, bloodmobiles are able to take extra precautions as described below, such as special air purification systems, limiting the number or people onboard, having barriers in-between donors and more.
According to Jeremy Puckett, Blood Center Supervisor with Lee Health in Florida, "The pandemic has created a big demand for blood donations (and) we're limiting the number of people inside the bloodmobile as well as requiring all participants and workers to wear masks, stay socially distanced, and regularly sanitize their hands. As a matter of protocol when donating blood, we'll take your temperature anyway, which is another CDC safety recommendation."
In the case of Vitalant, who has 120 donation locations around the country, blood drives account for about 60 percent of the blood they collect. Knowing the severity of the current need, they are asking organizations to get back to hosting blood drives whenever possible. Perfect organizations to coordinate and host blood drives at a fixed location or a bloodmobile in a parking lot include:
| | | | | |
| --- | --- | --- | --- | --- |
| ♥ Schools (K-12, colleges & universities) | ♥ National Honor Societies | ♥ Service fraternities & sororities | ♥ Churches | ♥ Local businesses & Retailers |
| ♥ Worksites | ♥ Community centers | ♥ Municipal centers | ♥ Fire & Police departments | ♥ And many other organizations |
3) Help Donors Feel Comfortable About Coming Back to Your Bloodmobile
What COVID-19 Screening Questions Should be Asked?
Prior to entering the bloodmobile, donors should be pre-screened with the following questions and asked to reschedule their appointment for 35 days after symptoms resolve if they answer 'yes' to any:
Do you have fever, cough, sore throat, muscle aches, difficulty breathing, chills, or new onset of loss of taste or smell?

Have you been diagnosed with or tested positive for COVID-19 within the past 35 days?*

Do you live with a person who has had COVID-19 or have you had significant exposure to someone who has had COVID-19?
*If they answered Yes to question 2, and have fully recovered, they may be a candidate for donating convalescent plasma.
Standard Safety Protocols
The following are some key examples of enhanced protocol the CDC is recommending to keep donors and staff safe in bloodmobiles and blood centers.
Encourage donors to make donation appointments ahead of time to help manage patient flow

Arrange to call donors' mobile phones when it's time for them to come in to donate blood, and donors can stay in their car until they're called

Checking a donor's temperature before they enter the donation center or bloodmobile

Limit the number of people on the bloodmobile

Ensure staff and donors wear face masks

Provide antibacterial hand sanitizer for donors before entering and throughout their donation appointment

Require staff to change gloves and wash their hands with soap and water between contacts with blood donors

Space donor chairs 6 feet apart and/or have barrier enclosures

Thoroughly and consistently clean and disinfect the donor station according to CDC and state protocols after each donor has left

Use sterile, single use collection sets for every donation and prepare the arm with an aseptic scrub

Use disposable single use foam stars for donors to squeeze while donating

Require employees and volunteers experiencing COVID-19-like symptoms to remain at home and get a medical evaluation before returning to work
Equip the Bloodmobile with Special Air Purification
The confines of a bloodmobile can be perceived as a fearful environment for some donors. To address these concerns advancements have been made in developing several methods to protect donors and medical staff while inside the vehicle.
Three primary safeguards have been developed that provide mitigation of these concerns and improve air quality. Note: Not all of these solutions are applicable to all bloodmobiles. Therefore any individual unit must be evaluated to establish the best solution.
1. In-Duct UVC Lighting: Far-UVC light efficiently and safely inactivates airborne human coronaviruses. UVC lights have a high kill rate for airborne mold, bacteria and viruses. Germicidal UV light is a well-established technology used for sterilization, sanitation and purification. Certain UV lights can reduce or prevent microorganisms from circulating within the ductwork of a confined space. In addition to Germicidal UV light the CDC recommends that a High Efficiency Particulate Air (HEPA)-level air filter be incorporated into the HVAC system to trap larger particulate. In fact it is critical to have a HEPA air filter in the system because it is possible for a particulate to shield a microorganism from the UV light bombardment.
2. On-Wall Add-On HEPA-UVC: This new air filtration safeguard is a 20 x 25 inch wall mounted unit that combines four stages of filtration:
A pre-filter

A HEPA filter

A carbon filter layer

A powerful UVC light
On-Wall Add-On HEPA-UVC units are all in one and easy to hang. This self contained package simply plugs into the wall like any small appliance. The unit contains a high-intensity UVC germicidal lamp which neutralizes and reduces airborne mold, bacteria and viruses. It also stops allergy and asthma-causing dust, dander, pollen, mold and many other airborne particles.
3. In-Ceiling Far-UVC Lighting: Another highly effective and safe method for clean air in your bloodmobile is a Far-UVC recessed overhead ceiling light that is illuminated during or in between patient visits. Far-ultraviolet C light has the correct energy to break apart organic molecular bonds. As harmful germs and tiny organisms pass through the far-UVC light their molecular structure is genetically damaged and broken down with which prevents them from reproducing.
Conclusion
There is no risk of contracting the coronavirus from the donation procedure itself. Though it is critical to follow CDC and sate guidelines, and take extra precautions to protect your staff and donors. Check out Vitalant's website for helpful information of COVID-19 FAQs with respect to blood donation.
In addition, donation centers and bloodmobiles are testing donors for COVID-19 antibodies. Whether a donor is eligible to give whole blood, recovered from COVID-19 and can donate convalescent plasma, or an organization can host a blood drive, you are all saving lives. The Vitalant website also has some great information on how to host a blood drive.
Now, more than ever, it's time to get back to operating blood drives. And bloodmobiles are the best way to get into the community where people work, play and go to school. Plus they serve as roving billboards that provide the most valuable advertising you can do.
Additional Sources Include: