Mobile simulation labs have the latest medical equipment used in emergencies, trauma situations and everyday patient care. These training centers on wheels simulate ambulance, emergency room and hospital patient care settings. They use computerized high-fidelity patient simulator manikins
that can breathe, respond to treatment, and even talk. The medical trainees use actual medical and rescue equipment, including cardiac monitors and defibrillators, resuscitation equipment, airway management equipment, intravenous supplies and more. Mobile sim labs provide personnel with the experience of a wide variety of standardized scenarios and practices for multiple procedures, delivering the highest quality of experiential learning for those on the frontlines.
Due to the growing need to provide best practices in impacting patient safety and to improve healthcare outcomes there are even educational curricula for simulation training instructors in obtaining an associate, bachelor or master's degree, such as a Master of Science in Healthcare Simulation.
The following are five major benefits of mobile simulation labs.
1. Mobile Medical Simulation Training Enhances Patient Safety
Medical simulation training is not just for new personnel entering into nursing, emergency medical or as a physician. It serves to educate individuals joining a medical profession and tenured persons in new technologies and is essential to patient safety in helping to reduce errors when trainees enter into or continue practicing in their discipline. Simulating actual clinical environments allows the trainees to make mistakes and learn from them. With the oversight of professionals in the given discipline or simulation instructors, along with video recordings and virtual patient systems that deliver real-time physiological response feedback, learning patient safety is paramount.
Leveraging mobile simulation training programs improves health outcomes for patients, which is the goal for all healthcare professionals. Mobile clinics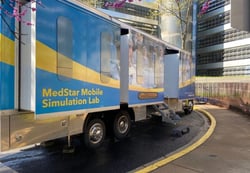 equipped with medical simulation training provide an opportunity to meet the needs of satellite hospitals and clinics, rural, urban and most suburban fire, EMS and health centers. It's usually prohibitive for a single hospital, or even an entire hospital system to have dedicated sim training labs at each facility. And it's usually not feasible for smaller health systems and their medical staff to have easy access to training in new procedures.
From nurses, to doctors, first responders and technicians, the availability of ongoing training is crucial to the health of patients. That's why mobile simulation units bring training to your satellite locations or to rural clinics and emergency personnel.
2. The Flexible Advantages of Mobile Simulation Training
Mobile sim units present customizable settings. They can be up to 45 foot long trucks with exam room type simulation and a model ambulance interior for EMT simulations, as well as small mobile trailer units for "Flight for Life" medical training and any size or requirement in-between.
Mobile medical simulation labs provide flexibility that can be tailored specifically to the group being trained. For instance, medical personnel in rural areas may not have the opportunity to gain adequate training compared to their urban counterparts. And state-of-the-art mobile medical simulation labs are designed for training in advanced pediatric and adult emergency medical care. The flexible advantages of mobile sim labs include:
Equipment is shared across multiple sites and locations, spreading the costs across your organization and community, often making it easier to gain local or regional funding.
Trainee travel is reduced or eliminated by having simulation training come to them.
A mobile sim unit can be a revenue stream when outsourced to nonaffiliated colleges and universities for medical training for certain specialties not readily available.
Whether the mobile simulation lab is a large tractor trailer, straight truck or small trailer, they can be designed and adapted to suit the specific needs of training resident physicians and nurses along with emergency room personnel and first responders.
As with all mobile medical clinics, simulation labs on wheels increase awareness of the hospital, university, or facility by serving as a roving billboard advertising the advantages of their programs.
3. Mobile Training Helps Advance Academic Comprehension
Clinical teams participate in continuous training, including specialty ICU rotations, skills lab, regular safety classes and training of transport and airborne patient care.
Prior to being employed by a hospital or as an EMT, students will spend two to eight years in classroom environments, from science laboratories to classes covering trauma issues. Though students will spend time shadowing, hands on simulation training helps them apply classroom knowledge to real life. And like learning your multiplication and division in grade school, the freedom to make mistakes is an asset of simulation training. Mobile units meet trainees where they are so they can learn concepts from their education that realistically translate to actual scenarios.
With accessible simulation training any medical scenario can be recreated, from the complex to the rare or even dangerous situations. Regardless of a trainee's education or experience level, repetitive simulation training ultimately makes live patient interactions safer.
4. Mobile Sim Labs Teach Self-Assurance
Mobile simulation centers allow trainees to select scenarios and situations they wish to focus on to enhance disciplines they most require. Simulation training provides a mistake-friendly environment, permitting the student to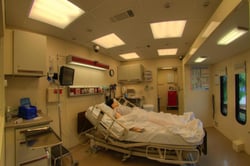 recreate the scenario along with the trainee's guidance. This can also give confidence to approach rare clinical situations as their training progresses.
In the same way that practice makes perfect for a baseball player, where the more at-bats translates to more RBI's, the development of clinical muscle memory translates to patient safety. This is when clinical decision-making instills confidence that makes doctors, nurses and EMT's more effective in real lifesaving scenarios.
Whether it's a recent graduate learning new skills during mobile simulation at their remote clinic or an experienced ER doctor gaining knowledge in new technology, simulation exercises provide confidence in high stress situations and patient interactions. And low stress bedside manner translates to a more confident patient.
5. Practicing Procedure Scenarios with Accessibility to Simulation Training
Learning the best methods in addressing low volume, high-risk medical crises enhance emergency preparedness. And having easy access to training with mobile sim labs allows for multiple simulation scenarios, including:
| | | | | |
| --- | --- | --- | --- | --- |
| Birthing difficulties | Emergency scenarios | Obstetric emergencies | Pediatric treatments | Respiratory complications |
| Cardiac problems | Neonatal scenarios | Overdose treatments | Procedural measures | Trauma situations |
The flexibility of mobile labs provides specific simulation scenarios for unique disciplines or multi-disciplinary roles. The unit can travel to a fire station on Monday for emergency response training, and to a remote clinic on Tuesday for nurse continuing education.
Conclusion
Mobile Sim units take simulation training on the road to provide medical professionals' fluency in skills without risk to live patients. Using patient sim education gives preparedness and experience in identifying and responding to risk situations that may not have been covered during their initial training. In addition, it provides continuing educational training in new procedures and practices to keep the trainee up to date with new technologies. As with hospital or university based simulation labs, mobile labs which travel to other institutions and into the community serve:
Registered Nurse

s

Licensed Practical Nurses

Respiratory Therapists

First Responders

Providers and Physician Residents

Advanced Practice RNs

Medical Assistants

Physical Therapists

Medical Students

Many other medical professionals
For more information on mobile medical simulation units, check out the Comprehensive Healthcare Simulation: Mobile Medical Simulation which provides in-depth information on the growing need for mobile simulation vehicles. This reference guide covers the indispensable training providers require and offers step by step guidelines on how to establish and operate a mobile medical simulation program. It is an ideal handbook for administrators, managers, educators and trainers who wish to implement a mobile simulation training program for their organization.
Fill out our contact form to learn more about how a mobile simulation unit can benefit your organization.