Dental professionals are continually looking for ways to improve outcomes and better serve their communities. Many consider how mobile dental health units may help in these endeavors and want to ensure their program will succeed.
Here are five proven tactics that nearly guarantee success for becoming a mobile dentist.
1. Establish the Need, Develop a Plan and Connect with the Community
While careful planning is not a guarantee that your mobile program will succeed, without it your program has no chance for success.
Long-time mobile dentistry program director Mindy Muñoz in Springfield, Missouri says, "When we started our program over 15 years ago, the first thing that we did was establish the need."
In other words, Ms. Muñoz adds, "You need to know the void you're trying to fill in the community. And you need to gather the community members together who know local people who can help."
So the Ronald McDonald House Charities® of the Ozarks in Springfield (RMHC) contacted local professionals to learn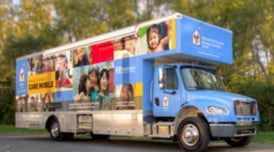 how to address a significant oral health need for children in the community. "And we were able to start the Tooth Truck, our local Ronald McDonald Care Mobile program." Muñoz says.
Arkansas Children's Hospital's Director of Community Clinical Programs, in Little Rock, Fidel A. Samour, adds, "As you plan your mobile dental unit make allowances during production for a flexible floor plan. Anticipate your needs in the future, like a panoramic x-ray or converting the all-dental plan to one that can provide medical and dental care. Flexibility is key."
At-Risk Kids Have Reduced Oral Health Issues When Having Access to Mobile Dental Units
According to Sarah Cimino, DDS, a primary dentist aboard The Tooth Truck, "Being mobile allows us to eliminate barriers that would otherwise prevent our patients from receiving much needed dental care. Our Ronald McDonald Care Mobile unit has been an instrumental part of addressing dental issues for at-risk children in the community. So much that oral health is no longer identified as a major community issue. That's progress!"
2. Assure Local Dentists There is no Conflict of Interest
When mobile school-based programs come into a community, some local dentists worry that the program will take business away from their practices. To put them at ease Mr. Samour carefully guides the hospital's program. "We won't see a child if they've been seen by a local dentist. We avoid conflicts with local dentists by checking Medicaid and managed care records to see the child's last dental visit."
It's important to have cooperation. Mindy Muñoz adds "Over time, we aren't viewed as competitors to local dentists. The children that we're seeing wouldn't often receive treatment from local dentists due to barriers preventing them from going to a free-standing dental clinic. So we don't compete, we collaborate." And when major procedures are required, mobile programs will often refer the patient to local dental specialists.
3. Alert the Community, Engage State Agencies, Public Health Nurses and School Nurses
Professional mobile dentistry program operators engage with their communities beyond just advertising locally. According to Mr. Samour, instead of just sending notices to parents they "Start by finding the state agency who is leading the dental effort and ask for resources to help with your community outreach. Engage people early on. If you have a managed care company at your state level, and you can improve their quality metrics, then engage them. In essence, you're engaging lobbying power on behalf of your new program right from the start."
4. Hire Dental Staff Who Are Devoted and Will Embrace Your Mission
"Not every dental professional is cut out for mobile oral health environments, says Mr. Samour, most modern mobile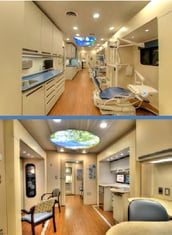 dental units are professionally-equipped and well made, but you need to hire for fit and personality."
Mobile dentistry units have smaller office and treatment spaces and the staff needs to be able to work together in these settings. In addition, the team should be those whose personal values align with the mission of working with and for underserved people in the community.
5. Accurate Record-keeping and Adequate Funding Are Essential
From the start, it's important to gather meaningful statistics on the needs in your community and ensure those needs are reflected in your program's results. Your funders will require that you demonstrate the value of your program. They will want to see documented evidence of success and even shortfalls, and what plans you will put in place for improvement as your program matures.
Establishing and sustaining your program will take funding from many sources. From seeking funding from local and national philanthropic foundations, to dental insurance companies who have giving arms, there are many resources to support community health programs. And many of these organizations often exist to primarily to asset in programs that provide improved healthcare to underserved populations.
Conclusion
Mobile dental clinics can operate in broad geographic areas and target specific demographics, which may be impossible for fixed dental facilities. In addition to local hospitals and national organizations, many dental practices expand their services to include mobile clinics to serve outside of their normal geographic footprint. Mobile vehicles also help market a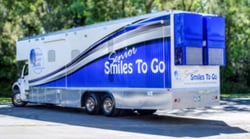 practice or hospital by operating as roving billboards and displaying their contribution in helping serve the community. Having dental trucks as part of their business helps bring in new patients, ultimately increasing their revenue stream.
With initial due diligence, efficient record-keeping, adequate funding and an effective marketing plan the return on investment is significant when implementing a mobile dental care program. Not only from the billed services provided through the mobile unit, but also the referrals back to the institution (dental practice, government backed organization, clinic or hospital).
Click the button below for more information on establishing a "Winning Mobile Dental Care Program".
Sources: