Mobile laboratories provide a variety of on-site services, traveling to places where outbreaks can occur, serving as agricultural testing labs, educational class rooms, and even archaeological laboratories.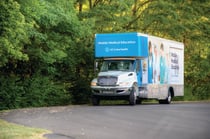 Mobile labs can serve a variety of functions including science education, science research, and on-site environmental analysis and monitoring. These laboratories on wheels are also used by and for public health laboratories, environmental agencies, departments of agriculture, first responders, geochemistry, military, law enforcement and other security agencies. Depending on the specific goal, mobile units are outfitted with equipment and technology for a variety of specific requirements.
Mobile Medical Labs
Mobile medical laboratories provide sophisticated testing for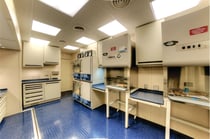 avian flu or other potentially deadly outbreaks. These units house sophisticated laboratory equipment that can be shared across many cities or counties where outbreaks can occur. They can also be deigned to provide veterinary services for livestock and even pets.
Mobile Labs deliver specific health services, such as:
Anthropometry assessments (study of the measurements and proportions of the human body)
Blood chemistry measurements
Fitness assessments like mask-fitting and pulmonary function testing
Make repairs to highly customized equipment like prosthetics
Mental health screenings
Nutritional analysis, often including macro and micro nutrient analysis, obesity and diabetes prevention programs
Mobile Education Class Rooms
One of the most popular uses of mobile labs is educational class rooms, providing community organizations and schools with educational courses for families and children in regions that are unable to maintain state-of-the art instruction.
Mobile laboratories have their own physical facilities that often include laboratory benches, equipment, supplies, fume hoods, electricity, water and other specialized gear to facilitate an engaging, hands-on learning experience for all ages. There are even mobile labs such as the Heartland Aeronautical Experience that offers education and resources to specific populations to learn about aerospace careers opportunities.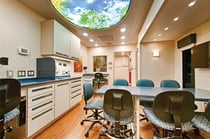 Many of these mobile learning centers focus on STEM (science, technology, engineering and math) programs. Mobile laboratories have been recognized by the National Institutes of Health for improving knowledge and understanding in biotechnology and medicine within the general United States population.
One example is "The Mobile Lab", sponsored by the University of Pittsburgh Department of Biological Sciences. It is a self-contained, traveling laboratory that allows students to use state-of-the-art equipment to perform laboratory investigations. The Mobile Lab is a valuable addition to a very active K-12 science education outreach effort. This program, operated by the support of multiple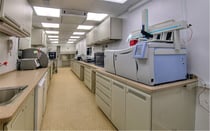 organizations and companies reaches additional school districts in need to increase the scope and range of science education.
In another case, The Mobile Laboratory Coalition (MLC) operates mobile laboratories for education programs. They take science laboratories to businesses, events, schools and many other locations where there is a need to provide helpful or even critical public education.
Agriculture Testing & Education
As one of many, the Maryland Agricultural Education Foundation, Inc. has mobile labs that visit schools for week long, hands-on exploration into subjects such as water quality, wetlands, well contamination, foods and environmentally friendly products.
In addition, the United States Department of Agriculture operates mobile laboratories throughout the United States performing:
Cultures
Lab-on-a-chip, CBRNE triage
PCR (Polymerase Chain Reaction)
Point-of-care diagnostic
Sample collection
Sample preparation
Serology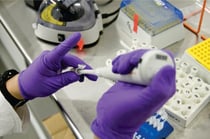 To make U.S.-Mexico Agricultural NAFTA trade work more smoothly, the FDA deploys mobile labs at ports such as Nogales during peak import seasons, and SENASICA uses mobile labs to test for pathogenic microorganisms and toxic residues.
In another example of using mobile labs for agricultural research and oversight, North Dakota State University has launched a mobile laboratory designed to monitor and combat livestock related bioterrorism and disease issues.
Water Quality & Geochemistry Analysis
Organizations specializing in soil, water, and soil vapor analysis use mobile laboratories for Gas Chromatography (GC)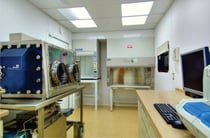 and GC/Mass Spectrometry (GC/MS) testing. They may be certified for performing tests to determine volatile organic compounds in a variety of solid waste matrices per EPA 8260B, determining toxic organic compounds in ambient air (EPA TO-15), and testing for petroleum hydrocarbon impacted sites in the investigation and cleanup of unauthorized releases of fuels from underground storage tanks in the State of California (CA LUFT/8015m). Many also analyze for methane and fixed gases on-site, aiding in vapor intrusion assessment.
Mobile Fuels Lab
State and federal regulators require the analysis of gasoline, diesel fuel, kerosene, lubricants, motor oil, liquid propane and other petroleum products to check for adulterations to regulated formulas and for pollutant levels.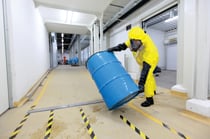 Testing is performed to ASTM (American Society of Testing Materials) standards to reliable test methods that help manufacturers and distributors ensure the proper efficacy of petroleum products from refinement through end use. Samples are analyzed for T50 and T90 as match criteria for ethanol-gasoline blends, Reid vapor pressure (volatility of gasoline), oxygen, benzene, aromatic hydrocarbon, alkenes (olefins) and sulfur contents. Fuels inspectors travel in mobile fuel labs to refineries, loading terminals and service stations to test the required limits of petroleum products.
Public Health Risks & National Disasters
Mobile laboratories are widely used by the CDC (Centers for Disease Control and Prevention), Homeland Security, the ATF (Bureau of Alcohol, Tobacco, Firearms and Explosives) and many other state, local and regional authorities in efforts to aid in disasters and health risk prevention.
The ATF operates mobile laboratories and Command & Control vehicles for Emergency Support Function (ESF) #13, providing federal public safety and security support to local, state, tribal, territorial, and federal groups affected by actual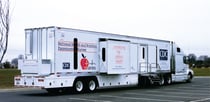 or anticipated, natural or manmade disasters or acts of terrorism.
The Department of Homeland Security has a directive with the FDA to operate two mobile labs for national security purposes. One mobile laboratory is a microbiology lab used to detect disease-causing bacteria in food and drugs. The other is a mobile chemistry laboratory for detecting the potential and actual deliberate contamination of food and drugs by pesticides, poisons, toxins, or other chemicals.
The privately held organization Pace Analytical Services, LLC is a sampling and analytical testing firm providing mobile analytical laboratories for testing, staffing and equipment, with a wide scope of services.
Law Enforcement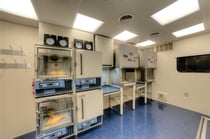 According to Officer.com, a website dedicated to the advancement of law enforcement capabilities, mobile crime laboratories are growing in popularity as crime-fighting vehicles. These mobile labs provide onsite capability of processing and analysis at the crime scene. Many law enforcement agencies serving mid to large populations tend to have mobile crime scene vehicles to help collect and analyze evidence to effectively expedite the investigation.
Conclusion
Mobile laboratories serve to fulfill many needs in local communities, states and throughout the world. Organizations requiring mobile lab units look for vehicles that can be custom made, outfitted with state-of-the-art equipment and rugged enough to provide years of service. The highest quality lab vehicles are built on truck chassis, rather than RVs or buses which do not have durability and maximum interior space to adequately fulfil specific needs or services of most organizations.