Mobile health care units are medical offices on wheels. In many cases they are used to serve the underprivileged, homeless and those with behavioral health disorders. Those that are disenfranchised in these ways can often receive basic health care on a mobile medical unit at no charge, or are helped to connect with available health insurance. These mobile medical units travel to multiple locations to serve rural and urban populations, typically helping those who are homeless and do not have insurance.
Mobile Medical Clinics Provide Outreach to Reduce the Access Barriers for Homeless People
According to a survey conducted by the National Health Care for the Homeless Council mobile health programs identified the lack of health insurance and transportation, along with distrust of the 'system', as the primary reasons why many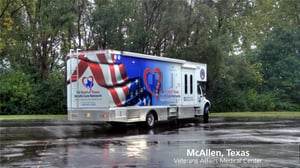 health services are inaccessible to homeless populations. This is particularly the case for behavioral health for homeless people, medication needs, continuity of primary care and oral health. The barriers to public health insurance are primarily due to the difficulty in obtaining the required documentation, such as proof of identity and citizenship, undocumented status and often ineligibility is due to a drug or alcohol problem. Other barriers to providing health care services to the homeless include:
Lack of trust or feeling intimidated by the traditional health care system
A history of abuse
Mental illness
Substance use disorder
Stigmatization of being labeled as socially undesirable
Not knowing where to seek health care when uninsured
Language barriers
Chronic homelessness
Having services being available at only a single location that is inaccessible
The table below shows the primary barriers to health care for the homeless by percentage of survey respondents.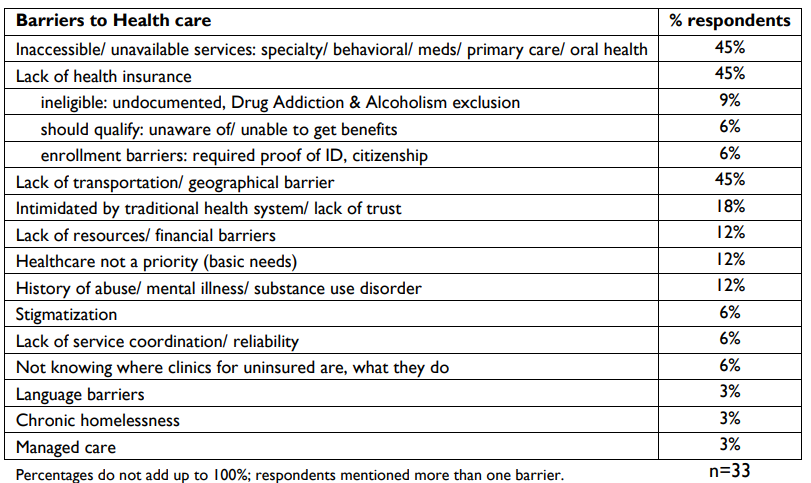 Darcie Meierbachtol, ANP, FNP of the Colorado Coalition for the Homeless in Denver says: "The number of uninsured people experiencing homelessness has increased and overwhelmed the health care system. Required documentation of identity to apply for benefits is a serious impediment. The number of undocumented workers has increased. The number of homeless people in suburbs has increased and suburbs haven't developed a way to address this service access problem. Demand is greater than the supply of health care services [for uninsured people] in the communities where homeless people live. All of these factors limit health care access for the people we serve on mobile outreach."
Jonathan Dunning, MEd, CCS, of Birmingham Health Care, Inc. in Birmingham, Alabama adds; "Even in urban areas, there is very little public transportation, only those who own cars can get to health services. Busing is scarce, it stops at 5:00 P.M. and there are no suburban routes. In rural areas there is no busing at all; people must walk miles to services. Trust is also a problem in a state where experiments were done on poor black people without their knowledge (the Tuskeegee experiment)."
Addiction Treatment with Mobile Medical Vehicles
As is well publicized, we all know the United States is in the midst of an opioid overdose epidemic. In January 2017 the Centers for Disease Control estimated the number of people in the United States who had died from overdose in the 12 month period prior to January 2017 was 64,070.
In response to this many organizations have taken to the road with mobile health units to reach rural, urban and homeless populations to address the rampant issues related to drug and alcohol addictions. As one example, Addiction Campuses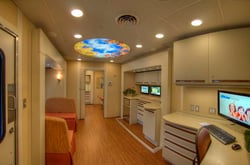 of Nashville, a nationwide leader in treating substance use and mental health disorders, deployed 23 mobile crisis units across the United States. These units were dispatched to Texas, North Carolina, Pennsylvania, New Jersey, Maryland, Tennessee, Georgia, Louisiana, Mississippi, Kansas, Missouri, Alabama, New York, Ohio, Pennsylvania and Florida.
Justification for Behavioral Mobile Health Care
Mobile health clinics for behavioral health outreach is highly justifiable due to their proven success in reducing many health care barriers, particularly when it comes to access to treatment. Mobile units are often the only source of health care in rural and underserved communities. The primary reason for providing services to homeless people with a mobile unit is to deliver much needed healthcare that is welcoming to those who cannot or will not go to a fixed-site clinic. Often used by FEMA, these units are dispatched after natural disasters such as floods, hurricanes and tornados, providing medical and trauma services to those devastated by such events.
Mobile health outreach programs are also important for controlling the cost of services. They typically provide much less expensive medical care than emergency rooms and help to keep homeless people with behavioral health disorders out of jails that are typically not properly equipped.
HIV Screenings
There is a national focus on programs that provide community based HIV prevention and screening for low-income and rural communities. According to the U.S. National Library of Medicine MHCs (Mobile Health Clinics) are shown to be effective in reaching high-risk or stigmatized populations, such as the homeless and individuals with multiple risk factors for diseases, and are able to attract different sectors of society to engage in screenings for a variety of illnesses. For example, a study comparing a MHC in Baltimore with a comparable traditional fixed-site clinic found the percentage of clients who agreed to undergo human immunodeficiency virus (HIV) screening was higher at the MHC (54.4% versus 7.1% in a traditional clinic). It was also discovered that the percentage of HIV tests that turned out positive was also higher at the MHC (5.4% versus 2.0% in traditional clinic). This indicates that Mobile Health Clinics facilitate more HIV screenings and are more efficient at reaching high-risk populations. Because of their ability to connect with vulnerable individuals, MHCs can help identify additional cases of infectious and chronic diseases in these nontraditional settings.
Conclusion
Mobile Health Clinics provide invaluable services to people who have a deep mistrust of traditional healthcare settings. Behavioral health and other much needed medical services provided by mobile health units include (but are not limited to):
| | | | | |
| --- | --- | --- | --- | --- |
| | Nutrition education & counseling | Preventative & Restorative Dental Care | Behavioral health screening and referral for treatment | |
| Wellness & prevention services, including annual physicals | Prescription management (prescription drugs are not kept on site) | | Primary medical care, including lab work and necessary tests | |
Download our white paper to learn more about the advantages of mobile medical.
Additional Sources: