With faltering economic recovery, many industries are scrambling to deal with continued supply shortages, increasing commodity prices, and higher wages triggered by labor shortages. In 2021 the producer price index (PPI) rose 10% in the industrialized world. The PPI measures the postproduction prices of goods and is a barometer of the pressures on manufacturing. The last time there was this level of increase in PPI was in the first half of 2008.
With respect to individual consumers, in April of 2022 overall prices as measured by the Consumer Price Index (CPI) were up 8.3 percent compared to April 2021. An increase in the CPI means that a household has to spend more dollars to maintain the same standard of living. However, during the same period prices for medical care increased by only 3.2 percent. Similar to the rate experienced in the past. For now, medical inflation is lagging overall inflation during the latest surge (see chart below).

Chart as seen on Bloomberg News
The unusually high inflation we are experiencing is clearly affecting most parts of the economy, especially energy and food, though it has yet to affect health care prices.
What is Happening on the Ground, Beneath the Statistics?
Though overall health care prices are not affecting consumers to the degree we are being pressed by other parts of the economy, healthcare systems in rural communities are facing challenges that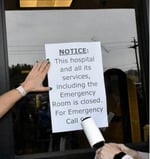 threaten their financial stability. During the pandemic federal support temporarily shored up many of these rural healthcare systems. Though once the federal public health emergency (PHE) funds are no longer available, many rural hospitals that were struggling before the pandemic will be in jeopardy of closing.
To combat this reemerging crisis, there should be an increased demand for mobile health clinics (MHC) to step in and reduce health disparities among vulnerable populations in rural communities who will be faced with reduced access to healthcare. Mobile clinics provide healthcare to vulnerable populations at a fraction of the cost of a traditional hospital or clinic. Mobile medical units are the most innovative means to meet those needs in a sustainable and equitable manner.
Mobile health clinics can reduce the often overlooked big picture costs to a healthcare system. The result of an MHC:
Promotes earlier patient intervention
Educates patients in their ability to self-manage their health
Reduces emergency room visits*
Reduces hospital admissions
Improves the quality of life of the community


*Estimates show that a single mobile clinic reduces emergency room visits on average of 600 annually, slashing the cost of care by as much as 20%

.
Studies reveal that those who wait to utilize traditional services average 7.9 days in the hospital, while those who depend on mobile healthcare services average only 5.8 days. This indicates that mobile medical clinics improve patient health and can be a more cost-effective method than traditional acute care services. According to the National Library of Medicine the cost per patient visit for all mobile clinic services ranges from $65 to $529, which is significantly less than those reported for fixed clinic services.
The Importance of Mobile Health Clinics
Despite efforts to improve access to quality health care, the general population is facing increased rates of chronic disease and associated costs as inflation creeps further into the healthcare community. This is only exacerbated by the impact on vulnerable groups such as those in low-income brackets or living in poverty and people who belong to racial and ethnic minority groups. This is particularly true for those included in these populations who live in rural and urban communities, facing disproportionately negative health outcomes. In today's rural healthcare landscape, the population is older, sicker, and less likely to be insured or seek preventive services than in urban areas.
The good news is mobile health clinics reduce these disparities by increasing access to impartial health services that are affordable and culturally sensitive in their approach to the communities they serve. Bringing much needed health services directly to underserved populations. The approximately 2,000 mobile clinics operating in the U.S. serve an estimated 7 million at-risk individuals each year.
They operate independently or as extensions of existing healthcare organizations and provide a comprehensive set of services, including dental, mammography and other health screenings, primary care, urgent care, and preventive health services. Mobile dental clinics are often the most popular and effective in serving disenfranchised communities. By visiting elementary schools, they are able to provide kids with good oral health which is the obvious precursor to future positive health outcomes. During the pandemic, combination mobile medical and dental clinics were developed to provide dual care, leveraging new onboard technologies that combine to allow medical access to a broader population.
During the height of the pandemic and still today in its lingering aftermath, mobile medical clinics are crucial in reaching displaced and isolated individuals. As hospitals and health clinics tried to keep up with demand, and were forced to adjust to new safety protocols, mobile clinics found avenues to deliver much needed healthcare services. Using specialty air quality equipped vehicles, with special patient and staff protocols designed specifically for mobile environments, they have been providing:
COVID testing
Using bloodmobiles for collection during a major blood shortage due to the pandemic
Much needed dental services and medical screenings
Addressing Staffing Shortages
As with other industries, staffing shortages continue to challenge healthcare systems as a result of the effects of the pandemic. Derived from a survey conducted during February and March of 2022 of a diverse group of healthcare professionals, 3 steps that can be undertaken by operators of mobile clinics are:
Provide hiring incentives, such as signing and referral bonuses.
Offer retention bonuses and other incentives to keep HCPs on staff.
Hiring more temporary staff, such as travel nurses, locum tenens physicians and advanced practice providers.
Think outside the box:

Offer widely staggered work schedules, i.e., 2 weeks on, 1 week off, or 8 days on, 4 days off, etc.
Encourage shift trading.
Consider broadening your service area that may require overnight stays and provide extra travel incentive pay, per diem pay and lodging for staff.
In addition, explore reassigning inhouse staff to mobile units. Select individuals who have the cultural competency, aptitude, and desire to serve disenfranchised people. In addition, not every medical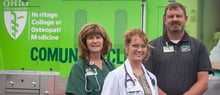 professional is cut out for a mobile healthcare environment. You need to hire for fit and personality. Units have smaller offices and treatment spaces, so you'll need a closely knitted staff. Make sure they are trained for and have a willingness to work in the confines of a limited workspace. It comes down to having a staff that has a significant desire to serve, not just have a job. Healthcare providers of all disciplines are first responders, the heroes on the front lines. Those that work in mobile health clinics are not only on the front lines, but in the trenches. Willing to treat the most underserved portions of the population.
Another source of medical professionals to tap are ex-military field personnel. They are clearly individuals who have experienced the rigors of working in small spaces under highly stressful conditions.
Conclusion
The disparity of supply and demand delays facilitating the needs for the patient and also drives up costs and waste in the system. Mobile health clinics continue to play a crucial role during these times of strain on the economic climate and the healthcare community. They fill the widening gap in supporting low-income patients, who often delay medical care for financial reasons. Early in the pandemic studies conducted in some Southern states found healthcare delivery was costing less when patients sought services from a mobile clinic versus hospitals or brick and mortar clinics.
Mobile clinics provide greater accessibility, allowing healthcare providers to tailor services to specific populations. They offer flexible, and highly responsive care to those who are isolated and vulnerable, and newly displaced — a segment of the population that is unfortunately expanding. As reported in 2021 of 291 mobile health clinics surveyed, 56 percent specifically target uninsured patients, 55 percent serve low-income patients, 38 percent focus on homeless patients, and 36 percent seek to help rural patients (clinic operators were able to select more than one service).
Learn more by downloading our white paper: Five Ways to Preserve & Grow Market Share
Sources Include: