The crisis of COVID-19 has resulted in severe illnesses and countless deaths and has also brought many of the country's healthcare systems to their knees. Hospitals and other healthcare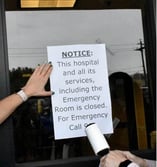 institutions have been stressed to their breaking points. As an example, financial burdens experienced during the COVID-19 pandemic caused Fairmont Regional Medical Center, the only hospital in Marion County, West Virginia to close permanently. The 207 bed acute care facility had more than 500 employees, and area residents must now travel up to 40 minutes to reach the closest medical center.
Increased operating costs, physician and nurse shortages and lower reimbursement from insurers have forced hundreds of rural health systems across the country to close. This has increased the barriers to healthcare services for everyone, especially millions of rural and underserved Americans.
Before the pandemic, many organizations were already making changes by leveraging new technologies and retooling their facilities to improve the patient outcomes. Many had been working closely with business leaders, community stakeholders and the government to address vital needs outside the hospital's walls, including access to transportation, insecurity of food perishability, social factors of adequate health delivery and the role of mobile clinics.
Yet with the demands of addressing COVID-19 there have arisen new ways of thinking, bringing about an unprecedented need for expanded care. Many new solutions-by-necessity are being explored to advance the future of healthcare.
According to U.S. News & World Report one success story has been the effectiveness of efforts to "bring health care to where people are," said Dr. Rishi Sikka, president of system enterprises at Sutter Health, a network of medical groups and hospitals based in Sacramento, California. Tactics have included deploying telemedicine, virtual doctor appointments, mobile medical clinics and "street nurses" who venture out to provide care for homeless populations.
The article goes on to state that virtual "doesn't really work for everyone," such as seniors or those in underserved communities, and COVID-19 has exposed the need to work deliberately with trusted voices in those communities, said Dr. Tamarah Duperval-Brownlee, president and CEO of Providence Health System in Washington, D.C. In the midst of these challenges, "I think we've grown exponentially to understand the needs of our communities that much more," she said.
Expanding the Use of Mobile Units
For these and many reasons the use of mobile medical units needs to expand to address the growing disparities in healthcare. As stated, MHCs can improve access to care for an untold number of people, yet can also improve the adaptability and versatility of healthcare delivery.
Mobile units are a highly innovative yet vastly underused delivery model in helping address the growing burdens on healthcare across the country, and throughout the world. This will especially be true in a Post COVID-19 world where rural communities are becoming increasingly cut off at a disproportionate rate.
In 2021 organizations have rightly been focusing on vaccine delivery and many mobile medical units have been deployed for that effort. However, in battling the pandemic the needs of many other health services have suffered. As we continue to fight this pandemic, we should ensure preparedness to handle other critical health needs and be better equipped in the event of another virulent disease. It's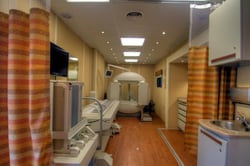 important to make mobile units capable of multiple healthcare disciplines by ensuring ease of convertibility of the unit to dental care from medical, or from primary medical care to occupational health field testing. The flexibility and adaptability of mobile medical units make them ideal in responding to the increasing demands being placed on a fragile healthcare ecosystem.
According to an article published in the International Journal for Equity in Health, despite the increasing body of evidence of the unique value of the highly adaptable model of care, mobile clinics are not widely supported. This has resulted in a missed opportunity to deploy mobile clinics during national emergencies such as the COVID-19 pandemic, as well as using these already existing, and trusted programs to overcome barriers to access that are experienced by under-resourced communities.
Although they do not substitute for a hospital emergency room in urgent cases, mobile clinics compensate for gaps in traditional health care safety-net programs by traveling directly to communities and offering an extensive range of services. By offering preventive services, mobile clinics save the U.S. health care system over $1 billion in annual costs.
Conclusion
It's not surprising that several organizations are re-purposing their mobile units to be prepared for the next pandemic, if ever. And many others are converting to "near emergency" rooms to keep patients separated until they are tested. With exponential population growth and new healthcare challenges that come with it, whenever possible mobile units should be multi-purpose to be able to vary service types and locations easily and economically.
To ensure versatility and the ability to face unknown future challenges, mobile clinics should be rugged enough for the long haul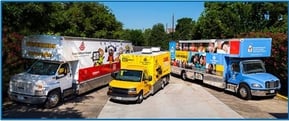 and able to operate dependably 52 weeks a year in all climate conditions and landscapes. For instance, they need to be able to endure long distance travel between populations in Montana during the winter snows and climb through the foothills of Appalachia while maintaining climate controls for patients, and onboard medicines and equipment. Converted RVs or school buses cannot provide dependable services their target populations demand. And they usually turn out to be a money pit, and often "disposable," in the same vein as the Yugo automobile was in the 1980's.
The safest, most versatile, and rugged mobile health units are semitrailer or rigid truck body styles built on solid chassis. These types of units are purpose built, specially equipped, affordable, and able to last for decades.
However, it's one thing to recognize the need and have a desire to integrate mobile clinics into an organization; there must also be a business case to support it. Organizations considering implementing a mobile health clinic should think about:
The business goal of the mobile unit
Partners and funding sources for the operation
Hiring and training of staff, and ensure their willingness to be in a limited workspace
Evaluating the impact on patients and on the operating group running the mobile unit
Logistical concerns such as hours of operation and locations to visit, including:

Rural communities
The urban poor
Schools
Businesses
Trible lands
The primary purpose of mobile health clinics is to reach patients who are otherwise unreachable. To serve them where they live and work. For a large proportion of the population there are several barriers to accessing care. Many of them insurmountable to the patient.
Fifty-three percent of low-income adults don't trust the healthcare system
Twenty percent are deterred by high healthcare costs
Twenty-five percent lack transportation to medical appointments
Eleven percent lack insurance coverage
Others report social isolation, racial or economic barriers, or language and cultural barriers
When effectively utilized mobile health units meet the needs of patients who may otherwise go untreated. They provide dental care for school children, and mammography screenings for women 45 years and older, along with medical screenings for minor to serious illnesses, all of which may otherwise be ignored. If there is a diagnosis that needs further care the patient will be referred to the MHCs home organization for treatment. There are many ways mobile clinics help the organization's bottom line – patient referrals, a roving billboard advertising your health system and sending a clear message that you care about your community. MHCs show up in locations that are convenient for the patient, making it more likely they will utilize the service. As the need for better healthcare grows in a post-pandemic environment, so will the need for institutions to be competitive. Mobile medical exists as a tool to provide expanded healthcare and to enhance the profitability of the institution, so we can stem the tide of so many hospital closures.
Additional Sources Include: