Mobile medical serves the entire range of at risk populations around the world; from disenfranchised African-Americans with diabetes - to the homeless - to children living in rural environments who lack health insurance - to indigenous communities - to isolated and impoverished people in the Middle East. Sometimes MHCs are the provider of last resort when mainstream healthcare fails to engender trust in a community or in areas where there are not any accessible health provider services.
These mobile units provide health screenings and procedures, often in lieu of emergency room visits and most particularly to disenfranchised urban, rural and remote populations. The role they play in prevention of diseases such as diabetes is highly significant in healthcare throughout the globe.
Mobile Medical Diabetes Clinics are on the Move from Northern Canada to Abu Dhabi to Utah
Canada: In north western Canada hospitalization and mortality rates from diabetes is twice as prevalent among Aboriginal peoples as compared to the general population. To battle this epidemic, a diabetes nurse educator and an ophthalmic technician from Carrier Sekani Family Services travel to Aboriginal reserves in a mobile medical diabetes clinic to provide checkups, testing, intervention and prevention education across Indigenous communities in Northern British Columbia. Their team partners with other health professionals and caregivers in the community to fully assess the patient's health in respect to diabetes prevention and treatment.
Most Aboriginal people in Canada live in northern Ontario and the western provinces of Manitoba, Saskatchewan, Alberta and British Columbia. They constitute the largest share of the population of the Northwest Territories and Nunavut. The Canadian Government created the Aboriginal Diabetes Initiative (ADI) in 1999 to help improve the health of First Nations, Inuit and Métis individuals, families and communities through actions aimed at reducing the rate and incidence of diabetes among these at risk populations.
United Arab Emirates: The Imperial College London Diabetes Centre's Mobile Clinic, located at Majlis Madinat Zayed in Abu Dhabi, United Arab Emirates provides world-class diabetes care with a state of the art mobile medical diabetes clinic. The clinic is able to treat up to 20 patients per day and offers free Hemoglobin A1c (HbA1c) non-invasive tests, which is one of the most important tests for people with diabetes or pre-diabetes. A Hemoglobin A1c (HbA1c) test shows an average blood glucose level over a 2 to 3 month period. Patients who indicate they are diabetic or are at risk are subsequently referred to a primary care physician.
United States: As part of the University of Utah Health Hospitals and Clinics the MHC Wellness Bus works to reduce incidences of diabetes and other chronic diseases to the medically underserved populations in Utah. Their team will present advice and education on nutrition, physical activity, weight loss and how to best manage illnesses such as diabetes and hypertension. This mobile health clinic provides important preventive health services and health screenings, including blood glucose levels to body mass index (BMI).
In another example The Health Hut in Ruston, Louisiana serves the medical needs of the uninsured adult population of Lincoln Parish through mobile medical care. They have shown that 30 percent of their patients initially exhibiting high blood pressure saw decreased readings over three-month periods. In turn, diabetic patients saw a decrease of 20% or more in glycated hemoglobin (HbA1c) levels.
The results show that challenges of chronic disease management such as diabetes includes adherence to necessary lifestyle changes and medications. And the quantitative evidence from multiple mobile medical clinics supports their effectiveness in helping at risk individuals address these challenges.
The Justification of MHCs: A Tangible ROI
According to the Mobile Health Map, mobile health clinics typically operate in low-income communities. Of those who depend on these healthcare facilities on wheels 60 percent are uninsured and 31 percent are publicly insured. As technology on board is improving and vehicles are being built to have longer service lives, mobile unitss are presenting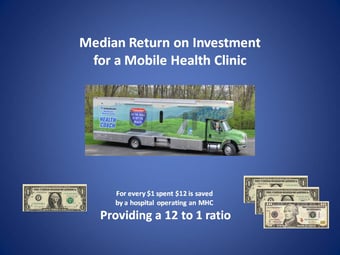 increasingly higher return on investments and providing higher quality care at a lower cost. The median ROI for a MHC has shown that for every $1 spent $12 is saved, providing a 12 to 1 ratio on the investment when properly utilized as an extension of a healthcare institution.
The cost-effective services of mobile health vehicles delivers preventative care that help people live longer and healthier lives. It is estimated that a single mobile health clinic saves 65 QALYs (Quality Adjusted Life Years) for each year of its service life, ultimately saving an average of $1,600 per patient visit.
Studies show that mobile clinics can reduce Emergency Department visits by 600 per year, saving an average of about one fifth of an emergency visit. The services and accessibility of mobile clinics provide lower operating costs to the healthcare system than ER visits.
Conclusion
In addition to the direct ROI of a mobile medical clinic, the value proposition as reported in Healthcare Finance states that though the savings related to health prevention initiatives can vary depending on the source, Trust for America's Health (a non-partisan public health policy, research and advocacy organization) found a return of $5.60 for every $1 spent on prevention. This return on investment of preventative care is a result of managing poor lifestyle habits which in turn reduces rates of diseases such as type 2 diabetes, high blood pressure, heart disease and some cancers. Mobile units that focus on diabetes care play a crucial role in saving the lives of vulnerable populations by providing education, medical care and impressing upon their patients to take preventative steps to live healthier lives.
Check out our white paper below to learn more about the advantages of mobile health clinics.

Additional Sources: