On October 18, 2022, the MOBILE Health Care Act was signed into law. This bipartisan, bicameral legislation Maximizing Outcomes through Better Investments in Lifesaving Equipment for MOBILE Health Care Act will broaden the ability to provide much needed healthcare services to rural and urban communities. The legislation, which takes effect on January 1, 2024, will allow health centers to use federal funds in establishing mobile healthcare for their communities to increase access to medical services for underserved populations.
One of the architects of the bill, Congressman Richard Hudson of North Carolina, stated "The MOBILE Health Care Act is critical to improve health care quality and access across our country, especially in rural and underserved areas. I have heard directly from community health centers in North Carolina and across the country about the positive impact this bill and the flexibilities it provides will have on communities and patients."
Rachel Gonzales-Hanson, Interim President and CEO of the National Association of Community Health Centers (NACHC) also said "On behalf of Community Health Centers and the 30 million patients they serve, I want to thank [our legislators] for pushing this important bill to extend access to high-quality primary care to rural communities through an expansion of mobile clinics. Nearly half of health centers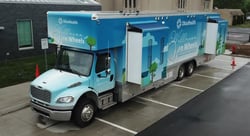 are located in rural and frontier communities, but we know there is still an unmet need. Additional mobile health clinics have the potential to leverage the reach of health centers and fully serve hard-to-reach patients across the country."
Impact of the Legislation
Across the United States 1 in 11 Americans are served by local community health centers. This represents more than 29 million patients, which includes 8.7 million children and 385,000 veterans. Yet many small and rural communities do not have the population to sustain a fulltime health center, leaving these people without access to general and primary health services.
The legislation will significantly expand the capabilities of Federally Qualified Health Centers (FQHC) and the Health Resource and Services Administration's (HRSA) designated Health Center look-alikes to make mobile health clinics available for delivering care to people who are underserved. Note: FQHCs and look-alikes are each referred to as Health Centers in the new MOBILE Health Care Act.
This opens the door to a significant expansion in helping Community Health Centers launch mobile clinic programs in underserved and rural communities. Health centers will have further access to federal funds to establish mobile medical clinic programs through the New Access Points Grants program. According to the National Association of Community Health Centers the number of mobile healthcare units has jumped by 40 percent since 2019. This increase, along with the added potential growth inspired by the recent legislation, brings medical services to underserved communities in the form of dental, mammograms, cancer screenings, general health screenings and other services to underserved populations.
Shocked into Action
An incident from over a decade ago helped prompt Nevada Senator Jacky Rosen to act in helping to develop the bill. In 2011 a nonprofit in Lyon County, Nevada was serving people with substance abuse disorders and found themselves with a need to expand their services to offer dental care. The Healthy Communities Coalition took action after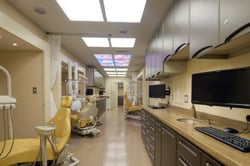 two of their food pantry volunteers used pliers to pull each other's abscessed teeth because of the lack of dental care providers in their area. Shocked by this, Wendy Madson, executive director for the coalition persuaded the organization to use mobile clinics in providing dental and general services to their rural communities who were underserved and didn't have easy and affordable access to healthcare.
By and large mobile clinics are commonly located in densely populated areas of the country. Simply take a look at the plotted locations on the Mobile Health Map. The vast majority are along the eastern and western seaboards, Chicago and the eastern Midwest and southern states. There is an unnecessary lack of mobile clinics in many rural and urban areas of every state, leaving many populations throughout the country with a scarcity of adequate access to health care.
For instance, the 2021 census reported that American Indians and Alaska Natives totaled 8.7 million people. Most reside in western states and of course Alaska, where the total state populations are low. And though the Indian Health Service works to provide mobile health units to improve access for tribal members, there is still a dire need for more help. These along with other impoverished regions such as Appalachia and the rural Midwest can benefit significantly from the MOBILE Health Care Act.
How it Helps
Before the legislation, grantees who wished to operate mobile health units where required to apply for NAP funds for both a permanent site and mobile healthcare in one application. However, in the new legislation, Section 330 grantees are now able to apply for just a mobile health unit(s) without the requirement to open a new permanent fixed site.
To learn more, check out Everything You Need to Know About the MOBILE Health Care Act as outline by the National Association of Community Health Centers.
And be sure to download our white paper: