Reducing Healthcare Costs
A mobile health clinic provides many cost-saving benefits to a healthcare system. When prompting early diagnoses and treatments which in turn improve patients' ability to self-manage their health, the system can see a significant reduction in emergency room visits and hospital admissions. Improving the overall quality of life of their population, a healthcare system can see reduced operating costs and an increase in patient referrals when a client's diagnosis requires more extensive care.
According to the Mobile Health Map of Harvard Medical School, a March 2017 report by The Advisory Board advised there are measurable influences among already vulnerable populations that keep them from getting regular check-ups. The report emphasized:
53% of low-income Americans distrust doctors and the health care system in general
20% of uninsured patients went without needed care due to the real or perceived high cost of healthcare and 8% of publicly insured patients
25% of low income individuals have missed or rescheduled appointments due to lack of transportation, which can ultimately lead to unintended emergency room visits
54% of non-elderly uninsured patients lack a usual source of health care
This lack of consistent care drives up the high costs of emergency room visits and often results in hospitalizations that can be prevented.
To combat this issue, the U.S. Department of Health & Human Services' National Library of Medicine reports that mobile health clinics have the ability to provide cost-saving benefits to the U.S. healthcare system by encouraging patient care early which can improve an individual's self-management of their medical conditions. The result can be a reduction in emergency room visits and hospital admissions, while improving long term patient health.
Mobile health clinic manufacturers are increasingly adapting units to be full service wellness clinics, providing check-ups, physicals, vaccinations and health screenings. They are able to treat minor illnesses and injuries on-board, and when necessary, refer patients to specific medical practitioners for further treatment.
Avoiding Emergency Department Visits
According to a 2018 article posted by Encounter Telehealth "…71 percent of emergency department visits could have been treated safely in an urgent care clinic or primary care setting, or did not require urgent care". Another article from The American Action Forum states that that between 14 and 27 percent of Emergency Department visits could be handled elsewhere.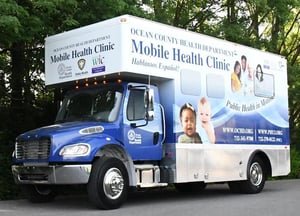 The healthcare industry often benchmarks the utilization rates of emergency rooms when studying the general health within a region. When the use of emergency rooms is excessive it can be concluded there is a need for regular primary care in the community.
The disenfranchised, those without adequate healthcare and underserved populations lack fundamental awareness of the availability of healthcare. Increasing awareness can be difficult unless primary care is taken to the field. The use of mobile health clinics in a community has shown to fill the gaps in the health services of a community and prove extremely effective at connecting high-risk patients with primary and preventive care.
As reported by The Pew Charitable Trusts, internist Dr. Anthony Vavasis of Mount Sinai Beth Israel in New York City studied the impact of mobile health clinics. Dr. Vavasis stated they help health systems avoid the "million-dollar patient". Meaning those who make their first contact with the health care system when a serious condition develops and medical attention becomes urgent. The cost of treatment in these cases and related complications can skyrocket over time. Dr. Vavasis determined that "If you build connections early on, then you can avoid having them come to the emergency room for complications later."
The Pew article further states that mobile clinics show success in identifying and improving previously undiagnosed conditions. A 2014 study published by The American Journal of Managed Care reported that the Family Van in Boston, operated by the Harvard Medical School, found that patients with high blood pressure experienced reductions in their systolic and diastolic blood during follow-up visits. This ultimately led to fewer health crises, with a 32% reduction in the relative risk for heart attack and a 45% reduction in the relative risk of stroke.
Mobile Care Chicago's Mobile Medical Van programs deliver care to more than 6,000 underprivileged

students in Chicago each year. Their mobile Dental Van Program provides oral care to children at school while avoiding absenteeism. The program has shown to decrease Emergency Room visits for preventable oral health issues. The organization also operates their Asthma Van program which has identified asthma-related issues early on, diverting patients from emergency rooms.
A Decade of ER Divergence with a Coordinated Referral System
The Primary Care Coalition in Silver Spring, Maryland began the Emergency Department to Primary Care Connect Project (ED-PC Connect) in 2009 with the help of an award from the Emergency Room Diversion Grant from the Centers for Medicare and Medicaid Services with the help of the Maryland Department of Health and Mental Hygiene. The project reduces emergency room visits in Montgomery County by referring low-income uninsured and Medicaid-insured adults from hospital emergency departments to what they refer to as "safety-net clinics", which provide patients with a medical home they can rely on and feel safe. By developing a coordinated referral system, PCC linked all five area hospital emergency departments in Montgomery County with four safety-net primary care clinics; three free-standing clinic organizations: Holy Cross Health Center, Mary's Center, and Proyecto Salud and one mobile clinic: Mobile Medical Care.
Conclusion
When it's understood that many emergency department visits can be avoided- it signifies a greater health need of the surrounding community. Mobile medical clinics reduce unnecessary emergency room visits by providing tailored and easily-accessible care at costs significantly lower than emergency departments. This not only frees up hospital resources for patients that actually require emergency care and reduces total healthcare expenditure − most importantly MHCs increase awareness and ultimately improve the overall health of the local community.
Additional Sources: