Mobile Health Clinics around the world are being used for COVID-19 testing, from Poland and Latvia to Argentina and the U.K. Plus, all over the United States mobile clinics have been built specifically for testing. Or in many cases clinics normally used for dentistry or childhood immunizations have reconfigured and/or directly redeployed to test individuals for the novel coronavirus.
Cases in Point:
DMV (District of Columbia, Maryland and Virginia metro area)
D.C. Mayor Muriel E. Bowser is concentrating testing resources, which include recently developed rapid-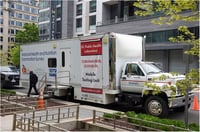 testing kits, on institutions who serve vulnerable populations such as nursing home residents and homeless shelters. With a continual increase in confirmed cases and deaths in the region the Department of Forensic Sciences unveiled a mobile testing unit that can deliver results within minutes and is being deployed throughout the District to test residents of long-term facilities.
Carbon Health of San Francisco, California
Carbon Health is a modern, tech-enabled healthcare provider who leverages smart technology with seven clinics throughout the Bay Area.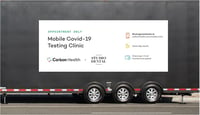 In recent months Carbon Health has been operating a mobile medical COVID-19 testing clinic that provides rapid tests on-site at prescheduled locations. They utilize Abbot's ID NOW rapid, portable testing instrument which is currently the fastest available molecular point-of-care test for the detection of novel coronavirus (COVID-19), delivering results in as little as 5 minutes. In partnership with Studio Dental, a San Francisco-based dental office, Carbon Health has converted their trailer into a private mobile testing clinic. They travel to various locations around the Bay Area to bring COVID-19 testing to communities that need it most.
Advanced Urgent Care & Occupational Medicine of Brighton, Colorado
The organization normally provides urgent care, occupational medicine and workers' comp treatment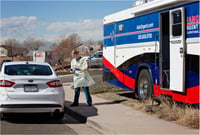 at multiple locations in the greater Denver area. However they have recently been providing drive-up Coronavirus testing with their mobile clinic. As with most clinics during these difficult times their providers see patients virtually from their phone, tablet, or computer. They then determine based on the patients symptoms and exposure to COVID-19 if they require testing. If so, they are directed to the location of the mobile clinic's curbside testing.
University of Miami Health System
The University of Miami Health System is using their Pediatric Mobile Clinic which features advanced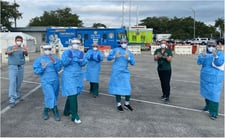 telehealth services to offer COVID-19 testing. Individuals with coronavirus symptoms, such as high fever and breathing difficulties, can make an appointment for testing.
According to Lisa Gwynn, D.O., M.B.A., associate professor of clinical pediatrics and public health sciences, and director of the Pediatric Mobile Clinic and the Dr. John T. Macdonald Foundation School Health Initiative; "We are shifting our medical resources to meet the community's need . . ."
A team from UHealth Pediatrics has been testing 250 to 300 adults per day since April 5, including police officers and other first responders who are on the front lines of the COVID-19 epidemic.
Community Health Center of Niagara
The Community Health Center of Niagara has put a mobile COVID-19 diagnostic testing unit into operation for Niagara County, New York. This mobile unit is providing weekly diagnostic COVID-19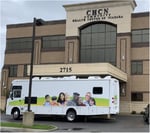 testing.
Clement Kwakye, Community Health Center of Niagara Site Director, said their ". . . goal is to help contain the spread of COVID-19 by giving diagnostic test access to many who may have transportation or underlying health issues and who otherwise may not have been able to get a diagnosis until it was too late."
The University of Alabama's University Medical Center
The University of Alabama's University Medical Center has teamed up with Alabama Power and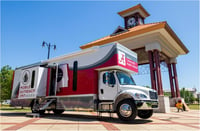 Livingston, Georgia Mayor Tom Tartt to help provide COVID-19 screenings in Western Alabama's rural communities.
According to Dr. Richard Friend, Dean of UA's College of Community Health Sciences; "Providing screenings in the Black Belt region of Alabama is important because there is limited access to health care in these communities. The numbers that we've seen demonstrate a low level of testing in these areas, so it is critical that we get resources to residents." UA's College of Community Health Sciences is hoping to expand COVID-19 screenings into other rural communities as more testing becomes available.
Conclusion
The CDC has guidance regarding those who should be tested, but decisions about testing are made by state and local health departments or healthcare providers. Yet, with the spread of the COVID-19 virus continually increasing and without a vaccination as of yet, the virus will continue to proliferate. From individuals, to businesses, to entire communities, we must all do our part to reduce the spread by following safe guidelines, including the use of PPE equipment. The only other way to push back on this threat is by discovering who needs medical care or quarantining through testing. And one of the most efficient ways to reach the rural and urban populations to perform testing is with mobile clinics.
Learn more about how you can help. Contact LifeLine Mobile at