The American Cancer Society recommends that women over 40 have an annual mammogram breast cancer screening. ­To help serve the public, mobile breast cancer screening units have state of the art equipment and infrastructure with dedicated teams to provide cost-effective mammography screenings to women at their place of work and to those in rural, urban and other low-income communities. Mobile mammography screening help to lower the barriers to breast cancer screenings for medically underserved women and is a convenient incentive to those at work. These units are fully equipped with current technology and specific imaging equipment that use a low-dose radiology for cost-effective screenings.
According to the Advance Healthcare Network of King of Prussia PA many women who could benefit from mammography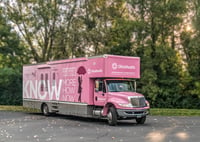 screenings are not receiving it. The use of mammography may be increased by making it more accessible. That is why ADVANCE offers mobile mammography onsite as a way to provide better access.
According to the National Center for Biotechnology Information mammography screening is considered to be effective at detecting early stage breast cancer and reduces mortality among women in the average risk age range of 40 - 69. Several clinical trials have shown that mammography screenings can reduce breast cancer mortality by 20–35 % for this age group.
Proximity and access to a mobile mammogram truck plays a significant role. By aligning with community resources that women are familiar with, there is a much higher probability they will utilize this service. One study found that more than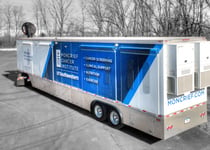 50 percent of those considered vulnerable (Spanish-speaking Latina women, English-speaking nonwhite women, the uninsured and the previously under-screened) were receptive to church-based mobile onsite mammography services. When a mammography unit is parked at a church, women tend to feel more comfortable and the service is trustworthy. In addition, another study found that women in rural areas who would need to travel far to a hospital or clinic are less likely to participate in screening. As opposed to those who can easily access a nearby mobile unit when it's in their area.
Mobile Units Must Provide a Welcoming Environment
According to the National Center for Biotechnology Information, women who accessed services from both mobile and fixed sites had similar motivating factors for having a mammogram screening. Whether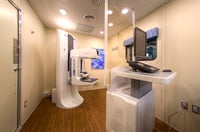 mobile or a brick-and-mortar location, most of these women recognized screening procedures are uncomfortable, yet necessary for good health. Interestingly, mobile participants tended to appreciate the atmosphere of mobile units. They appreciated shorter wait times and were pleased with the communication and empathetic treatment from the clinic staff. However, only due to delayed initial reading of the films some women accessing mobile mammography units expressed concern that the quality of films may not be on pare with that at a fixed site. Tough this concern is based only on perceived speculation and not on actual results. It is vital to make sure the mobile unit and staff provide a warm and welcoming environment for patients, and ensure accurate and high quality mammography images. Otherwise, those in need of this crucial service will become increasingly disenfranchised.
Large Universities and Organizations Offer Mobile Mammogram Services
It is not unusual for an organization or university to offer mobile screenings as part of their benefits programs. The University of Washington employee benefits program covers preventive mammogram screening based on your age and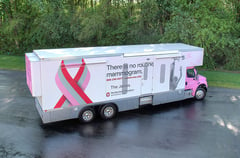 the Center for Disease Control's preventive care schedule. If the Seattle Cancer Care Alliance (SCCA) is in-network for an employees' health plan, UW makes it convenient to get screenings near their workplace. They offer mammogram truck services on campus with convenient stops throughout the campus at regularly scheduled times. Their mammogram unit makes it easy for women to access a quality screening with little interruption to their day.
A mobile screening unit operated by the Louisiana State University Shreveport Feist-Weiller Cancer Center's Partners in Wellness program reduces the barriers to access and cost for Louisiana residents in need of routine health screenings, including mammography screenings. Rural and inner city residents have access to mammograms, pap smears, prostate exams, colorectal screening kits, and head and neck cancer screenings aboard the mobile medical unit.
The Department of Veterans Affairs Mobile Mammography Unit provides access to mammography screenings for women veterans at select VA Health Care Centers in North Carolina. This VA Mobile Mammography Unit features:
Digital mammography technology
All-female technologists
Private changing room with separate clinical exam room
Privacy and comfort of a traditional screening center with the convenience of a fully functioning mobile unit
Compliance with federal guidelines for all personnel, equipment and record-keeping as mandated by the FDA's Mammography Quality Standards Act*
* MQSA Alternative Standard #13: System Artifact Testing at remote mobile breast cancer screening sites where film processing takes place using processors permanently located at the site.
The Sentara Healthcare of Woodbridge, Virginia operates a digital mammogram truck which travels to community sites throughout Northern Virginia, making mammogram appointments fast and convenient.
Due to the lack of early detection and treatment of breast cancer in this area of Prince William County Virginia, low-income women have experienced a high rate of deaths from breast cancer. A study indicated that breast cancer was detected among women in these areas at a late, more serious stage. Their mobile breast cancer screening now improves access to early detection and refers patients to necessary follow-up diagnosis and treatment services. This referral process can also help to secure Sentra Healthcare's market. Increasing patient referrals within a healthcare system is measurable benefit of mobile medial programs.
Rex Healthcare of Raleigh, NC offers high-quality mammography services to women in areas where there is a difficulty accessing healthcare service. REX Mobile Mammography also travels to businesses and other organizations to provide a convenient option so all women in their area can benefit from mammography's early detection capabilities.
Conclusion
Statistically 1 in 8 women will be diagnosed with breast cancer in her lifetime. Early diagnosis can vastly increase survival rates and mobile breast cancer screening units reduce many of the barriers to breast cancer screening for medically underserved women. Population studies have found mobile medical clinics that are built for mammogram screenings to be highly effective at increasing the rate of early detection. Mobile breast cancer screening addresses the logistical and transportation barriers faced by underserved women in urban and rural areas, migrant farm workers, Native Americans, women in the workplace and many others. Even many states have programs which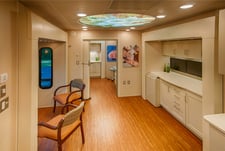 utilize mammogram trucks as part of their public health strategy. With this service being a highly recognized benefit for women's health the federal government has become more involved by introducing U.S. Senate bill S. 50 on January 5, 2017 "To amend the Internal Revenue Code of 1986 to allow refunds of Federal motor fuel excise taxes on fuels used in mobile mammography vehicles."
There are many resources to help organizations, hospitals and communities become involved in providing this valuable service, including the Mobile Health Map and The Mobile Health Clinics Association which provides a comprehensive outline of the Considerations for Operating a Mobile Mammography Program.
Finally, it is well understood the mammograms save lives. According to the Susan G. Komen® organization women age 60-69 that got mammograms on a regular basis had a 33% lower risk of dying from breast cancer. For more information and success stories, visit Susan G. Komen®.
Primary Sources:
Mobile Health Clinics Association
National Center for Biotechnology Information, U.S. National Library of Medicine
The National Center for Biotechnology Information
U.S. Department of Veterans Affairs