The burden of mental, behavioral, and substance use disorders on disenfranchised people has exceeded the capacity of today's healthcare systems, particularly in the wake of the COVID-19 pandemic. As many as 75 percent of people with serious mental illness in low income regions, such as rural and urban settings, cannot easily access basic treatment services. However, mobile clinics have successfully proven their usefulness in providing treatment for depression and other behavioral health issues, substance abuse, traumatic stress disorder, and even alcohol-use disorders. According to the National Library of Medicine, Mobile medical clinics represent an untapped resource for our healthcare system.
There are many thousands of mobile medical clinics in the United States alone, with thousands more around the world. And the primary function of most mobile clinics is to serve the rural and urban poor.
As reported by Gallup, Inc. America's mental health is "worse than it has been at any point in the last two decades." In January 2021 alone 41.1 percent of adults reported symptoms of anxiety and/or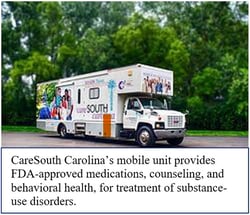 depressive disorder, with a disproportionate number of those affected from disenfranchised rural or urban communities. The worsening behavioral health "epidemic" has led the Health Resources and Services Administration (HRSA) to commit over $400 million since 2018 in grants and technical assistance for addressing behavioral healthcare issues in rural communities, including substance use disorders. And in early 2022 HRSA announced $13M in grants to expand rural behavioral healthcare access.
The funding supports comprehensive behavioral health services prevention, treatment, harm reduction, and recovery interventions to increase behavioral healthcare access in rural communities. Through the HRSA, the U.S. Department of Health and Human Services (HHS) released grants for organizations in rural areas to expand behavioral healthcare access.
The awards are aimed to address health disparities in rural America, such as trauma-informed treatment for substance use disorder. According to HHS Secretary Xavier Becerra "The COVID-19 pandemic has caused behavioral health challenges for Americans of all ages and backgrounds."
For instance, in August the University of Tennessee Health Science Center's College of Nursing received a $3.9 million, four-year grant, from HRSA. The grant will enable the college to provide mental health care to two rural counties in west Tennessee using a mobile health unit. The mobile health clinic will provide better healthcare outcomes, promote value-based care, and improve patient access to care for those with behavioral and substance use disorders. As part of the funding the college will integrate rural health education into its undergraduate and graduate programs to increase mental healthcare access through nurse practitioner-led mobile health units.
Additional Funding Opportunities
Oraginizations can apply for a federal designation to resive start-up funding for a medically undersearved area or population under Section 330 of the Public Health Services Act.
In additon, there are fuunding opportunites for Federally Qualified Health Centers. Many FQHCs incoporate mobile clinics as a key stratagy for improving access for behavorial health and substance abuse. You can also find information on grants from the Health Resoucres & Services Adminsitration, along with Federal Grant Opportunity for Rural Health Clinic Behavorial Health program HRSA-23-089.
Learn more from the Kaiser Family Foundation at Community Health Center Financing: The Role of Medicaid and Section 330 Grant Funding.
Download our White Paper to Learn More:
Sources Include: