Mobile Healthcare Simulation units are outreach education vehicles that have the ability to provide interprofessional simulation-based healthcare education to professionals in response to the need for interactive and high-tech training resources in urban, suburban, and rural areas. They are used to educate, train and test first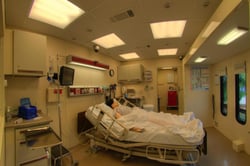 responders, ER nurses, physicians and other healthcare professionals in mastering cognitive, technical, and behavioral skill sets prior to working in real world scenarios. Mobile sim labs are used to train individuals and teams in realistic clinical challenges through the use of task trainers, mannequins, virtual reality, standardized patients, in-situ approaches, and other hybrid forms. Medical simulation is sometimes referred to as nursing, healthcare, patient, clinical, or surgical simulation.
Mobile Healthcare Simulation
A mobile simulation lab program serves and supports the educational needs of the medical community, for EMS, firefighters, nurses, and other medical professionals at facilities that do not have an inhouse medical simulation program. Specifically, they serve to provide training and up-to-date practices for:
Providers and Physicians

Respiratory Therapists

LPNs

Physical Therapists

Medical Assistants

Students

First Responders

Registered Nurses and Advanced Practice RNs
Programs are often developed to the specific needs of the organization, or audience with curricula, such as:
Simulated Clinical Scenarios

Clinical Procedural Skills Training

Practice and Performance Assessment

Resuscitation Simulation and Skills

Interprofessional Teamwork and Communication
Vehicles are equipped with high and medium fidelity patient simulator mannequins, including:
| | | |
| --- | --- | --- |
| Adult | Child | Neonate |
| Pregnant Female | Infant | Trauma |
Instruction is given by procedural task trainers who provide simulation in a wide variety of scenarios:
| | | |
| --- | --- | --- |
| Airway | Central Venous Line Insertion | Lumbar Puncture |
| Suturing | Chest Tube Insertion | Thoracentesis |
| Respiratory complications | Urethral Catheterization | Cardiac complications |
| Trauma scenarios | Pediatric scenarios | Emergency scenarios |
| Pharmacological complications | Neonatal scenarios | Birthing complications |
| Procedural scenarios | Adult and Pediatric | Intraosseous Line Insertion |
| Paracentesis | And other disciplines | |
Training scenarios are developed and taught to meet the specific needs of medical professionals in areas such as:
ACLS and PALS

Emergency Nurse Pediatric Course

Pre, inter, & post-partum care

Central line care & removal

Low-frequency/high-risk events

Rapid Response Team Training

Code situations and acute care

Malignant Hyperthermia

Sentinel Events/JCAHO Training

Crew Resource Management

National Patient Safety Goals

Sepsis Management

PICC line insertion, care, removal

Neuroleptic Malignant Syndrome

Trauma Nurse Core Course

Emergency care of disaster victims

Defibrillation, cardioversion, & transcutaneous pacing
EMS and Ambulance Simulators
EMS and ambulance simulators are used to represent emergency scenarios for EMS and fire personnel to practice procedures and treatments that may occur under high-stress emergency circumstances. Mobile healthcare simulation is used to train for preparation in administering naloxone, IV access, appraising a patient's airway, learning new equipment, and sharpening interpersonal skills which are essential for emergency medical services.
The methodologies used in mobile sim labs establish situations and various environments which allows learners to experience representations of potential real events. Mobile medical simulation training helps to avoid potentially life-threatening patient outcomes which medical personnel are faced with on a regular basis.
Examples of Mobile Medical Simulation Programs
The MedStar SiTEL Mobile Simulation Lab is a fully equipped, 40-foot truck-based simulation laboratory, that travels throughout urban areas of the Baltimore/Washington, D.C., region. From 2016 to 2020 their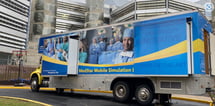 Mobile Sim Lab trained more than 2,600 healthcare workers on a variety of skills. It was in the early spring of 2020 when a new urgent training need emerged.
As the COVID-19 pandemic unfolded MedStar Health began preparing for a potential surge in patients needing intensive care. Due to increased demand for physicians, nurses, and other healthcare workers to be trained to work in intensive care units MedStar SiTEL's Mobile Simulation Lab traveled to numerous MedStar Health hospitals across the region to prepare clinicians from other specialties to work in intensive care through a hands-on training.
Northeast Georgia Health System's (NGHS) Mobile Simulation Lab allows Simulation Facilitators and Subject Matter Experts to use simulation scenarios for training and learning how to best address high-risk medical emergencies and enhance emergency preparedness. Serving Northeast Georgia, the NGHS mobile sim lab allows for hands-on learning incorporating critical thinking, evidence-based practices, and professionalism into all simulation experiences.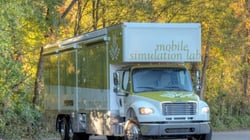 The Mobile Simulation Core Team determines opportunities in the North Georgia region to utilize the Mobile Simulation Lab as a teaching resource. NGHS's Trauma Outreach Program is designed to improve outcomes from trauma and prevent injury in the greater community. Emergency Medical Services (EMS) is an integral part of NGHS's trauma system. Prehospital care is provided by EMS responders, who are the initial health care providers at the scene of disasters. The prehospital trauma system at NGHS is driven by the goal of getting the right patient to the right place at the right time to ensure patients receive optimal trauma management and high-quality, consistent emergency care. Their mobile sim lab helps to reinforce trauma triage criteria and destination protocols, treatment protocols, transportation alternatives, and capabilities of trauma facilities in their geographic region.
East Carolina University's Clinical Healthcare Simulation Mobile Unit provides outreach education for interprofessional simulation-based education to healthcare professionals in communities around their home base in Greenville, North Carolina. Affiliated with ECU's Brody School of Medicine the vehicle has a fully-equipped hospital resuscitation bay, an additional ambulance compartment, an area for controlling the operation of the simulators, and video debriefing capability. Training is accomplished using sophisticated adult and pediatric patient simulators and procedural skills task trainers.
Conclusion
Mobile simulation units are used to provide life-saving training opportunities for urban, suburban and rural emergency medical providers, clinics and hospitals through the use of mobile high-tech simulation trucks.
With constant advancements in technology, medical professionals require ongoing training to further their knowledge in new techniques and procedures and to stay up to date in their skills. In addition, new persons entering the field such as EMS personnel, require hands on training to be prepared for real life scenarios. It's very expensive when staff from multiple healthcare facilities, fire departments and clinics need to travel to a simulation lab center. Mobile sim labs help provide continuing education for nurses, EMT training and physicians. They are invaluable for hospitals, universities, departments of health and other healthcare alliances in providing cost effective training services to their communities and their own staff. Mobile units are ideally suited for "equipment sharing" in simulation training across healthcare groups and communities.
Contact us to learn more about the advantages of Mobile Simulation Units and how they can increase your bottom line.
Additional Sources Include: