Your goal in the healthcare community is to provide the best care possible to those you serve.
Most mobile clinics provide care to both rural and urban populations. As noted by Xtelligent Healthcare , a literature review published in the International Journal for Equity in Health "mobile health clinics make an unfamiliar healthcare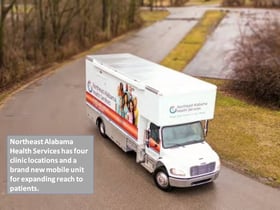 environment more familiar by being located right in a patient's neighborhood". The review further points out that "...qualitative research has found that patients value MHCs' informal setting, familiar environment, convenient location and staff who are easy to talk to."
The research concludes that "because MHCs make the effort to physically drive into communities, those community members feel that the clinics are reaching out to care about them, inspiring them to take more charge of their own health."
A. Mobile units can improve your bottom line
There are approximately 2,000 mobile health clinics on the road today in the United States. These health clinics see as many as 6.5 million visits each year, averaging 3,250 patient visits per clinic. This does not include the residual patient referral visits back to your home facility.
As an example of increasing revenue and growing market share, in one year Kaiser Permanente saved $88.00 per patient-visit using mobile clinics. There are many other positive peripheral financial impacts for your business. For instance an average mobile clinic can reduce emergency room visits by up to 600 annually.

As with any other part of your business, to be successful you need to market your mobile clinic.
With effective marketing programs you not only drive income for the MHC, but you also drive far more patient visits to your healthcare organization. You have the opportunity to use this roaming health clinic to promote your business at all levels of your community.
B. It's All About Relationships!
You need to be ingrained in your community to be successful in boosting your organization's income while delivering essential healthcare. This can be accomplished with a Mobile Health Clinic (MHC) as an integral part of your business.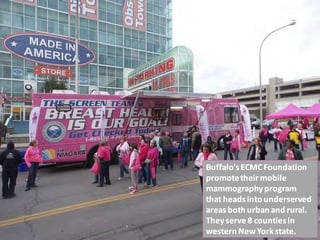 Successful healthcare systems that utilize MHCs ensure that outreach events and activities are an essential component of their marketing plan.
Mobile clinics must be recognizable advocates for the people they serve. Developing relationships with people where the live, play, learn, and work is the most effective way to ensure your mobile clinic is both a profit center for your business and a rolling provider of much needed healthcare services. Your mobile clinic that serves as a billboard on wheels and builds relationships with people as a welcomed part of their lives.
You should be a highly visible part of the community at the same level of other public services; from police and fire to schools and sports teams . . . and parades.
HERE ARE SOME STRATEGIES TO BECOME INGRAINED IN YOUR COMMUNITY!
Make regular community appearances at neighborhood events.
Have a welcoming appearance with a clean, modern and fully-equipped medical office on wheels, not a converted RV.
Expand your services with sports medicine, addiction services, nutrition and more.
Partner with schools to offer dental screenings and offer booster programs like flu shots.
Partner with local companies and government agencies to provide work-related care.
Learn more strategies by downloading our white paper: Quick Ways to Boost Income and Power Your Bottom Line
C. Community Marketing
Community marketing attracts prospective customers and engages them where they live. Participation in events they already embrace builds awareness at a personal level.
Remember the old adage; build relationships from cradle to grave. For example consider that a five year old can operate many functions on a smart phone or computer and will master those and future technologies for the rest of their lives. So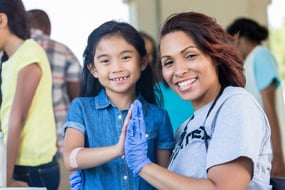 when a mobile dental clinic visits a school, it not only serves the health needs of the kids, but gives them a really cool experience of getting a tour of a mobile medical clinic.
Consider sponsoring or attending health fairs for kids or multi-purpose family events. The soon-to-be young adults and their parents can become advocates for your health care system.
Your Organization Becomes a Part of the Community by Engaging its People
Develop loyalty by extending a sense of belonging for those you serve.
Be genuine by providing outreach that demonstrates an authentic concern and participation in the lives of people in your neighborhood.
Be relevant by understanding the needs of the people in your community.
Showing Up is 80 percent of Community Marketing
Being at the center of your community draws attention from the public, business leaders and other important institutions. By creating a groundswell around your Mobile Health Clinic you will draw more patient visits and help alleviate competitive intrusion from other area healthcare providers. This helps you to protect your market. An MHC can be the most valuable marketing tool for your institution.
The Best Way to be Remembered is to Give Back
Manage your reputation so your competition doesn't. Conducting free health-related screenings is a great way to give back your community. It will help you gain new patients while being an advocate for better health. Remember, your mobile clinic is a roving billboard, so wherever you go your reputation follows.
Effective Techniques That Can Help You Become Ingrained in the Community With Your Mobile Clinic
Identify your target community by demographic.
Partner with community organizations such as independent health clinics, social service agencies and rehabilitation facilities that allow referrals for clients who need medical assistance.
The funds to obtain a mobile health clinic are usually more attainable then you think.
Never underestimate grassroots marketing.
Learn more about Community Marketing by downloading our white paper: Quick Ways to Boost Income and Power Your Bottom Line
D. Don't Reinvent the Wheel, Learn from Others
The Swedish Medical Center in Seattle operates a Mobile Mammography Program that reaches mostly underserved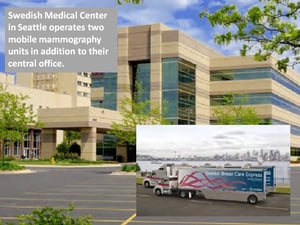 women by joining with important community partners, including the International Community Health Services, local YWCAs and may others.
You can leverage tested resources such as The Mobile Health Map, they outline Tips & Tools to Start a Mobile Clinic. The tips are compiled from 700 MHCs across the U. S. to establish guidelines for building a strong and financially effective mobile clinic program.
Conclusion
Finally, always evaluate the impact your clinic is having.
Mobile Health Map provides free online tools which help demonstrate the impact your mobile clinic has on the community, such as the Bottom Line Impact where you can calculate the return on investment. Even if you are just in the investigation or planning stage of implementing a mobile health program, you can run a beta test by inputting potential data to estimate the impact your program will have on the community and your organization.
Click the button below for detailed information on how to Boost Your Income and Add to Your Bottom Line!
Additional Sources: