Urgent care clinics have seen a record number of patients since 2020, and the high volumes don't seem to be going anywhere. This coupled with changes in the population and their healthcare needs, a growing shortage of physicians and other healthcare professionals, and hospitals closing in rural areas all demonstrate an increasing demand for mobile health clinics. The awareness of these changes has driven many healthcare organizations to pursue mobile clinics as a major part of their services portfolio.
They are very profitable, allowing for an expansion of geographic market share and growth in patients served, ultimately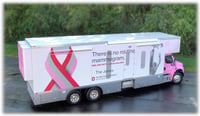 contributing to the bottom line. Yet starting a mobile medical, mobile dental or mobile mammography program takes planning, resources, and a determination to be successful.
There are a lot of obvious things to do in starting a mobile clinic program, which include:
Target a community

Identify locations to use the vehicle in service of the community

Identify and validate need

Partner with community organizations

Obtain a reliable mobile clinic vehicle

Hire a culturally competent staff

Pursue grassroots marketing

Add services based on local needs
However, many mobile clinic start-ups make mistakes that can impede their success. Here are 8 Pitfalls You Should Avoid:
1. A
void Impractical Expectations
Experience in starting and operating a successful physician practice, clinic or hospital requires many skills and having a sound business acumen. However, someone who operates a successful restaurant cannot necessarily transfer those skills to operating an auto parts store. The persona of customers and target market are very different, as are the type of services provided by employees and their location.
As such, the expertise in operating a successful brick and mortar medical facility is very different from operating a mobile health clinic. It takes much more than simply buying a mobile clinic and start driving around town. It involves time and unique planning to be successful. Many just starting out do not consider key benchmarks and the length of time to implement them. Be sure to do your research.
2. Do Not Leave Licensing Procedures for Last
Understand enrollment in Medicare and other appropriate insurances for mobile medical. Implementing new insurance and learning processing procedures can take up to 4 to 6 months. Insurance policies for mobile health care should include:
Commercial General Liability, Property, Inland Marine, Auto and Umbrella

Employment Practices and Directors and Officers Liability, and Workers Compensation

Professional Liability/Errors & Omissions

Internet Liability

And more
3. Avoid Using Off-The-Shelf Billing Software
Off the shelf billing software is most likely not the best choice for a mobile clinic and likely differs from current solutions used in a brick and mortar healthcare institution or practice. Identifying and establishing billing and EHR Software or selecting an outside contractor may take a few months, and a great deal of due diligence.
4. Do Not Brand and Market the Same Way You Market a Brick and Mortar Clinic
Marketing a mobile medical, dental or mammography business is very different than that of a traditional healthcare practice or institution. Understand the unique persona of your local audience, establish your geographic market, and align yourself with the community players, including:
| | |
| --- | --- |
| Local Health Departments | Schools |
| City Councils | Business Leaders |
| Community and Senior Centers | Urban Neighborhoods |
| Tribal Councils (if appropriate) | Rural Communities |
| Churches | Any organization that impacts the target community |
Establishing and implementing effective branding and marketing takes months to execute, and it never stops.
5. Don't Leave Licensing & Enrollment Until the End
This is a common mistake, expecting it's just paperwork that needs to be filed. In actuality it can take a number of months, and as a medical professional, you already know how important it is to adhere to local, state, and federal laws. Be sure to understand all of the local and state regulations to ensure your mobile health clinic business is in compliance. Being out of compliance not only risks your business but can affect your medical or dental license as well.
Most regulations consist of audits, licensing and of course insurance plans. It can seem overwhelming, yet consulting with state and county government officials can help to make sure you are in regulation and understand licensing requirements, laws, and practices. If in doubt, you can potentially save a lot of money, time, and headaches by working with a lawyer who specializes in business and medical law.
6. Expecting the Insurance Programs for Patients in a Clinic is the Same as Mobile
Do not make this assumption. Though it may be very similar, look at all the options. After all, your new mobile medical clinic needs to be profitable . . . for the long term. Begin the process of identifying the best insurance in the early stages of planning, because this can also take a number of months.
Because mobile medical clinics primarily operate in rural or disenfranchised urban populations offering dental, medical or women's health services, Medicare is often the only option. Be sure to closely evaluate (or reevaluate) the Centers for Medicare & Medicaid Service.
7. Selecting the Wrong Mobile Clinic
Everyone knows to select a mobile dental clinic if focusing on dental procedures, or a unit equipped for mammography screenings and other imaging if it's to be used for women's health. However, one of the primary mistakes made with a mobile start-up is selecting the wrong vehicle, or the wrong equipment or structure of the vehicle.
Some of the biggest mistakes are:
Selecting a unit built to residential standards like RVs and busses. Instead ensure you select a vendor that will work with you in providing space-control planning to maximize the multi-purpose nature of your new mobile unit so that the vehicle grows with your community outreach programs. Be sure your unit is a straight truck or tractor-trailer built on a heavy duty chassis, not an RV, refurbished school bus, or transit bus.

Selecting inferior medical equipment. Use a mobile health clinic manufacturer that will help you select onboard name brand equipment for the long term. For mobile medical, select from brands such as Johnson & Johnson, GE, Medtronic, Siemens, Baxter, Hologic, Fresenius, Philips, Cardinal, and so many more. For dental focus on A-dec, Midmark, Air Techniques, Pelton & Crane, DentalEZ and more. And for screenings the best choices are Hologic, GE, Siemens, Phillips, Fuji, Toshiba, Carestream, Hitachi, Esaote, and other recognized medical equipment OEMs.

Being 'sold' on a "disposable" mobile clinic. Select a mobile clinic that is built to last, with a steel I-beam understructure to keep your equipment protected and ensure long vehicle service life. Work with compnies that have built vehicles which have been on the road for decades, not just a few years, and as mentioned do not select companies who try to sell you RVs or busses which end up being "disposable".
8. Planning for The Unveiling While Ignoring the Future
It's so easy to be excited once everything comes into place and you're ready for the grand unveiling of you knew mobile clinic, as you should be. But don't start celebrating until you've mapped out some plans for the future. Many programs take off, only to slowly die out after a couple of years.
Make sure your business plan and the vehicle you choose is structured for the future and any unplanned contingencies. Make and plan for the possibilities of changes in healthcare. Take the recent pandemic as an example. Many of those operating mobile medical clinics adapted by upgrading their ventilation systems, installing barriers for social distancing and began to focus on testing and vaccinations. These mobile clinic operators kept in business by taking patients by appointment only and allowing a maximum of one or two patients and limited staff onboard at any given time.
Conclusion
Mobilizing health care is obvious, simple, and extremely underutilized. It is about leaving the building and getting as close as possible to people's homes to provide services they would otherwise not have access to, such as:
Screenings

Primary care

Dental care

Medical advice

Sometimes even hospital-grade triage
In most cases, mobile health care identifies early stages of health issues, saving the lives of people that would otherwise go unnoticed. Even from the outside looking in, it is sometimes difficult to understand why more institutions are not implementing mobile health care clinics. When done properly, it is a highly profitable business unit, serves as a roaming billboard for your institution or clinic, helps to increase your market share and most importantly reaches the underserved with critical healthcare.
Additional Sources Include:
Click the button below for your free Mobile Health Clinic planning guide and for more information on how your organization can get off to the right start with a mobile clinic: